"Eureka Moments" Dexcom-sponsored Symposium Shines at the 2022 Diabetes Canada / CSEM Professional Conference
Dexcom Canada was a proud visionary sponsor at this year's Diabetes Canada / CSEM Professional Conference. Our team was excited to contribute to the many important conversations had at the highly anticipated hybrid conference on the advances in diabetes research, treatment, and care.
During the conference, Dexcom sponsored an accredited dinner symposium titled "Eureka Moments: How rtCGM has changed our practice." This symposium was led by Canadian experts focusing on the practical implementation of diabetes technology, who shared their top tips and revelations that has enabled them to become more efficient, effective, and empathetic in their work with people with diabetes.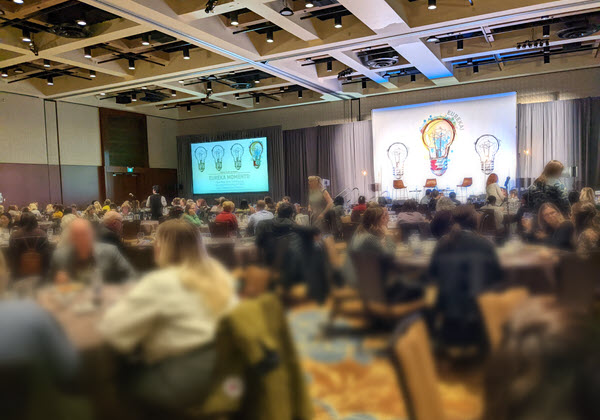 3 Key Highlights from the Dexcom "Eureka Moments" Symposium
Symposium attendees learned how real-time continuous glucose monitoring (rtCGM) technology has changed the standard of diabetes care, and how it can be utilized more effectively in clinical practice. The expert panel also discussed how rtCGM has impacted their relationships with people living with diabetes and shared personal tips that have made a difference in their work. Attendees were also encouraged to reflect on their personal experiences using diabetes technology and consider their own 'eureka' moments.
Below are 3 key highlights presented during the symposia:
1. The sooner rtCGM is started after diagnosis, the better: People with T1D starting rtCGM soon after diagnosis (within 1 year) had sustained lower A1Cs for 7 years compared to those starting rtCGM 3 years after diagnosis or those not using rtCGM.1 Patient education and setting realistic expectations i.e. learning from CGM data first followed by small changes after, is crucial for ensuring the user builds confidence in starting and the sustained use of CGM.
2. Automation matters: Alerts and alarms needs to be individualized and can be used to help build trust in the technology by setting the alerts and alarm at a level that prompts action from the user. Adults with T1D using isCGM for 2+ years who switched to rtCGM had improved A1C, time in range (TIR), fear of hypoglycemia and time in hypoglycemia.2
3. rtCGM adoption is easier than we think: Healthcare professionals are encouraged to challenge their assumptions on how difficult rtCGM may be to adopt, as the effect is:
Provider beliefs and behaviors may filter who is offered technology.3
Assumptions that cost is a barrier, or a high level of education is required may be incorrect and can impact equitable access to technology.4
Thanks to the symposium, "Eureka Moments" was also featured as the technology highlight for the Diabetes Canada / CSEM conference in the industry-leading independent news Close Concerns; a resource used by thousands of healthcare professionals worldwide for all updates on all things diabetes care and innovation. Close Concerns founder Kelly Close is also the co-founder of diaTribe.org which has an audience reach of over 350,000 people living with diabetes, each week.
Dexcom Canada thanks the following healthcare professionals who helped table the symposia discussions:
● Dr. Ilana Halperin, MD, FRCPC, Associate Professor at the University of Toronto's Endocrinology and Metabolism department.
● Dr. Jeremy Gilbert, MD, FRCPC, Associate Professor at the University of Toronto's Endocrinology and Metabolism department.
● Ms. Alanna Chambers RD, CDE, Independent Insulin Pump Trainer & Diabetes Educator from Kelowna, BC.
● Dr. Elizabeth Rosolowsky, MD, MPH, FRCPC, from the Canadian Society of Endocrinology and Metabolism, and (CSEM) representative.
Visit the Diabetes Canada website to learn more about the organization and its work in diabetes prevention and care.
CGM, Continuous Glucose Monitoring; CSEM, Canadian Society of Endocrinology and Metabolism; isCGM, intermittently-scanned Continuous Glucose Monitoring; rtCGM, real-time Continuous Glucose Monitoring; TIR, time in range; T1D, type 1 diabetes.
1 Champakanath, A., Akturk, H. K., Alonso, G. T., Snell-Bergeon, J. K., & Shah, V. N. (2022). Continuous glucose monitoring initiation within first year of type 1 diabetes diagnosis is associated with improved glycemic outcomes: 7-year follow-up study. Diabetes Care, 45(3), 750-753. doi:10.2337/dc21-2004
2 Visser, M. M., Charleer, S., Fieuws, S., De Block, C., Hilbrands, R., Van Huffel, L., . . . Gillard, P. (2021). Comparing real-time and intermittently scanned continuous glucose monitoring in adults with type 1 diabetes (ALERTT1): A 6-month, prospective, multicentre, randomised controlled trial. The Lancet, 397(10291), 2275-2283. doi:10.1016/s0140-6736(21)00789-3
3 Farrington, C. (2018). Access to diabetes technology: The role of clinician attitudes. The Lancet Diabetes & Endocrinology, 6(1), 15. doi:10.1016/s2213-8587(17)30411-4
4 Lawton, J., Kimbell, B., Rankin, D., Ashcroft, N. L., Varghese, L., Allen, J. M., Hovorka, R. (2020). Health professionals' views about who would benefit from using a closed loop system: A qualitative study. Diabetic Medicine, 37(6), 1030-1037. doi:10.1111/dme.14252
LBL-1002180 Rev001