The Dexcom G7 rtCGM System
The most accurate glucose sensor available in Canada†,1, Dexcom G7 is proven to improve diabetes outcomes2-6, and is our easiest to use, most discreet CGM. Dexcom G7 measures glucose levels up to every 5 minutes, and sends readings wirelessly to a smart device‡ or optional receiver, giving people actionable glucose data – without the need for routine fingersticks* or scanning. 
Image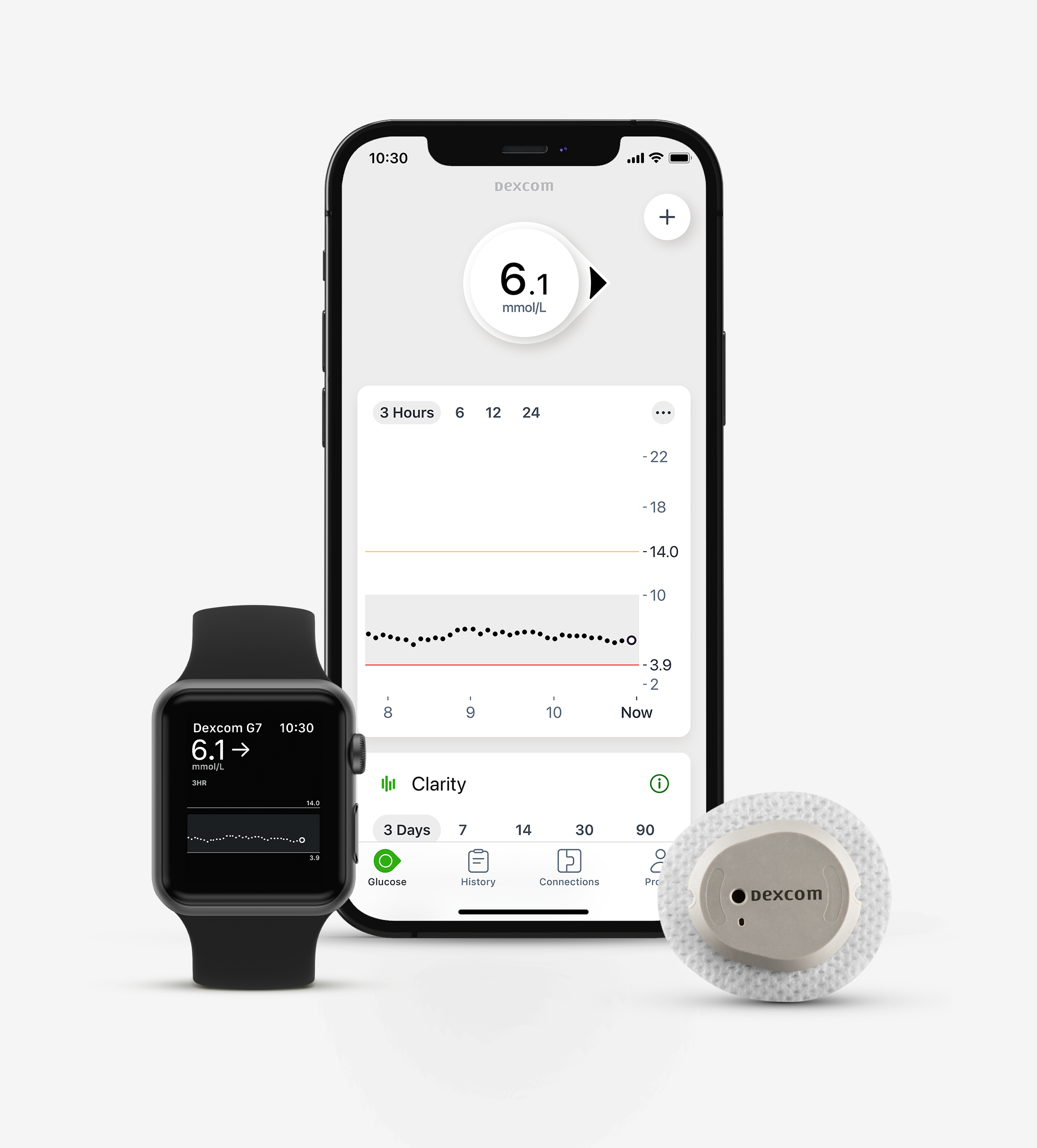 The most accurate CGM system*,1
Powering Confident Decisions That Lead To Better Outcomes2-6
Diabetes Canada Guidelines recommend real-time CGM, like Dexcom G7, as a standard of care.‡,7 And when compared to Freestyle Libre isCGM across diabetes outcomes in a real-world study, Dexcom rtCGM came out on top.8 
The most accurate CGM system*,1
MARD (back of upper arm):§,9,10
Adults: 8.2% vs. 9.2% for FreeStyle Libre 2
Pediatrics: 8.1% vs. 9.7% for FreeStyle Libre 2
Associated with significantly better real-world glycemic outcomes vs. Freestyle Libre isCGM¶,8
Greater A1C reduction (-0.7% vs. -0.5%; adjusted mean difference: -0.3%, p=0.01)
More time in range (1 more hour/day in range, p=0.03)
Less hypoglycemia (1 less hour/day below range, p<0.001)
 
Only Dexcom rtCGM has a predictive Urgent Low Soon alert
Up to 20-minute advanced warning when glucose is headed towards severe hypoglycemia (<3.1 mmol/L), so people can take immediate action.9 
 
Easier than ever to use – and to continue using 
Easy to prescribe, easy to insert and easy to customize. 9 out of 10 users stay on Dexcom rtCGM after 1 year.††,11
 
Designed for all types of diabetes
Can be used in the widest range of people with diabetes (type 1 & type 2 diabetes, pregnancy, children >2 years of age).9 
Image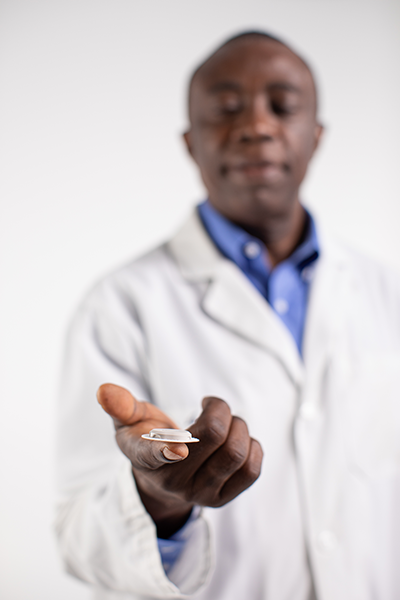 Dexcom G7 App
Our redesigned app allows people to easily see where their glucose levels are heading and how fast, keeping them engaged and motivated. It also offers greater customization, including a new Delay 1st Alert and the ability to silence all alerts when desired.9 Plus, the app now provides integration of Dexcom Clarity data, for better management decisions.//
Image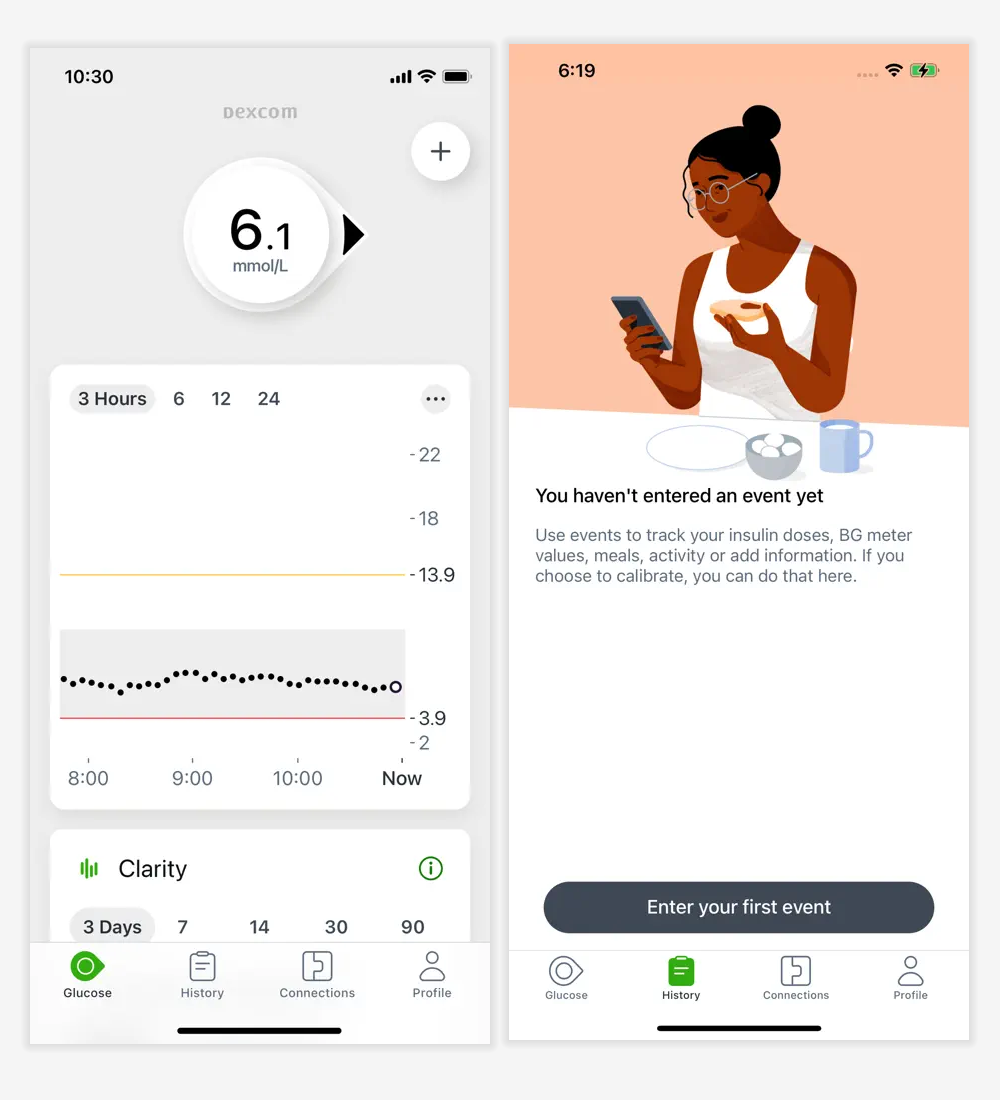 Footnotes
* When compared with CGM systems commercially available in Canada as of October 2023. Sensors worn on the back of the upper arm have been found to be slightly more accurate than sensors worn on the abdomen.
† For a list of compatible devices, visit dexcom.com/compatibility.
‡ In people with type 1 diabetes using basal-bolus insulin therapy or CSII, or with impaired awareness of or recent severe hypoglycemia; and in people with type 2 diabetes using basal-bolus insulin therapy who have not achieved their A1C target. 
§ Mean absolute relative difference (MARD) is a statistical measure of accuracy. The lower the number, the more accurate.
¶ Retrospective, real-world observational analysis of the Canadian LMC Diabetes Registry using the medical records of 143 consenting CGM-naïve adults with type 1 diabetes (T1D) in each rtCGM and isCGM matched cohorts. To be eligible, people must have had: diagnosis of T1D >12 months, baseline A1C >7.0%, and 1 or more completed HbA1c measurements 6 months prior and 6-12 months post-index date. 
†† Based on data from Dexcom CGM users in the U.S.
// Healthcare providers will only be able to view a user's glucose data if the user elects to share it with them through Dexcom Clarity.
# Followers must have compatible smart devices to use the Dexcom Follow app. To view a list of compatible devices, visit dexcom.com/compatibility. 
** Separate Dexcom Follow app and internet connection required. Internet connectivity required for data sharing. Followers should always confirm readings on the Dexcom G7 app or receiver before making treatment decisions. 
isCGM=intermittently scanned continuous glucose monitoring.

References
1. Dexcom, data on file, 2023. 
2 Beck RW, et al. JAMA. 2017;317(4):371-378. 
3 Beck RW, et al. Ann Intern Med. 2017;167(6):365-374. 
4 Martens T, et al. JAMA. 2021;325(22):2262-2272. 
5 Laffel LM, et al. JAMA. 2020;323(23):2388-2396. 
6 Welsh JB, et al. J Diabetes Sci Technol. 2022:19322968221099879.  
7. Cheng A, et al. Can J Diabetes 45 (2021) 580-587. 
8. Brown RE, et al. Diabetic Medicine. 2022;39:e14937. 
9. Dexcom G7 CGM System User Guide. 
10. Freestyle Libre 2 Flash Glucose Monitoring System User's Manual. 
11. Dexcom, U.S. data on file, 2022.