See how Dexcom products can help optimize your patients' glucose control and support a greater quality of life.
Why choose Dexcom G6 for your patients
Revolutionizing diabetes management
Dexcom is dedicated to helping patients, and their healthcare teams, better manage their diabetes by developing innovative glucose sensing technology, software and products.
Image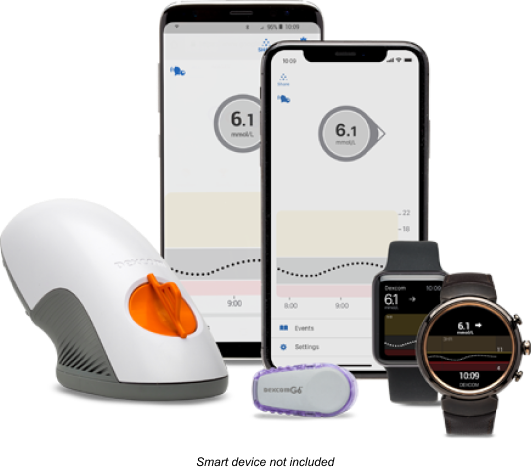 Exceptional performance and accuracy1
What's the difference between real-time Continuous Glucose Monitoring (rtCGM) and Flash Glucose Monitoring (FGM)?
There are significant differences between the Dexcom G6 CGM System and the Abbott Freestyle Libre 2 FGM System.
 
REAL-TIME CONTINUOUS GLUCOSE MONITORING (rtCGM)
Real-time glucose data, alerts and alarm
FLASH GLUCOSE MONITORING (FGM)
Glucose values when scanned, optional alerts
System Name
Dexcom G61
Freestyle Libre 2 & Librelink6
Age Indications
Persons with diabetes aged 2 years and older
Persons with diabetes aged 4 years and older
Sensor Placement
Ages 2-17: belly or upper buttocks
Ages 18+: belly or back of upper arms
All ages: back of the arm
Sensor Wear
Up to 10 days
Up to 14 days
Continuous Glucose Data Visibility
Yes
No
Real-time High/Low Alerts with Automatic Glucose Readings
Yes
No
Rise/Fall Rate Alert
Yes
No
Predictive Urgent Low Soon Alert**
Yes
No
Urgent Low Alarm†
Yes
No
Compatible with Automated
Insulin Delivery (AID) Systems
Yes‡
No
Remote Monitoring
Yes - shared continuously.
Displayed on the Dexcom Follow app.§
Yes - only shared when scanned.
Displayed on LibreLinkUp app.
Display Devices
Smartphone¶, smart watch¶, or
receiver (optional)
Smartphone7, or reader
Water Resistance
Up to 24 hours in 2.4 meters (8ft)
Up to 30 minutes in 1 meter (3 ft)
Known Interferents
Hydroxyurea1
Ascorbic acid (Vitamin C) and salicylic acid (used in Aspirin)6
** Provides a warning up to 20 minutes in advance of severe hypoglycemia (glucose levels at or below 3.1 mmol/L)
† Lets users know when their sensor glucose is at or below 3.1 mmol/L. You cannot change or turn off the Urgent Low Alarm.
‡ When integrated with the Tandem t:slim X2 Insulin Pump.
§ Requires the Follow App and an internet connection. Followers should always confirm readings on the Dexcom G6 App or Receiver before making treatment decisions
¶ For a list of compatible devices, please visit dexcom.com/compatibility. Use of the smart watch requires the Dexcom G6 App on a compatible smartphone.
1. Dexcom G6 CGM System User Guide, 2021.
2. Beck RW, et al. JAMA. 2017;317(4):371-378.
3. Reddy M, et al. Diabet Med. 2017.
4. Heinemann L, et al. Lancet. 2018;391(10128):1367-1377.
5. Welsh JB, et al. Diabetes Technol Ther. 2019;21(3):128-132.
6. Freestyle Libre 2 User Guide & Freestyle LibreLink User Guide
7. Freestyle LibreLink Smartphone Compatibility Guide.