Framework for Diabetes in Canada: A Win for the Diabetes Community
On October 5, 2022, Health Minister Jean-Yves Duclos tabled the Framework for Diabetes in Canada (Framework). The Framework establishes a pathway for improved health outcomes and includes better diabetes management, patient care, research initiatives, and improved access to diabetes drugs, devices, financial, and treatment supports.
The Framework results from years of advocacy and hard work by the diabetes community, including people living with diabetes, their families and extended circles of care, Indigenous peoples, healthcare providers, and advocates. It is a comprehensive approach that will help address the silent and unseen prevalence of diabetes in Canada.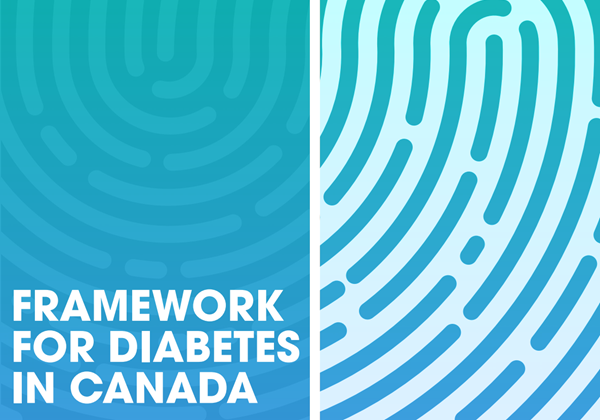 What Does the Framework Include?
The framework encompasses six key areas where more work can be done to improve the lives of people living with diabetes. These components are interdependent and interconnected, meaning that progress in one area can lead to advances in others.
The components include:
The Framework is informed by the best available evidence and will help to ensure that all Canadians have equitable access to high-quality diabetes prevention, detection, treatment, and management services.
Accountability
The Framework represents a whole-of-government and whole-of-society approach to addressing diabetes, with clear roles and responsibilities assigned to different sectors.
The federal government is responsible for developing the overall Framework and setting national priorities. The provinces and territories are responsible for implementing programs and services that address the needs of those living with diabetes in their region.
Diabetes Canada and the Juvenile Diabetes Research Foundation (JDRF) will lead the way in measuring progress and success toward meeting the goals set out in the Framework. Dexcom Canada remains committed to working with government, policy makers and advocates in a continuous effort to improve the lives of people living with diabetes through expanded access to real-time Continuous Glucose Monitoring devices like Dexcom G6.
Next Steps
The Framework for Diabetes in Canada is a living document that will require regular updates and improvements as our knowledge and understanding of diabetes grows. The goal of the Framework is to produce measurable change within the next five years, with a continued focus on improving the lives of all those affected by diabetes.
While there is still more work to be done, the Framework for Diabetes in Canada is an important step forward in helping people with diabetes live healthy lives. Dexcom Canada congratulates and thanks all of the individuals and organizations whose hard work has contributed to this important milestone.
To learn more about the Framework for Diabetes in Canada and its objectives, read the full report below.