5 Common Misconceptions About Dexcom rtCGM
Since their introduction, Dexcom's real-time Continuous Glucose Monitoring (rtCGM) systems have been used in the management of diabetes (improving A1C1,2, reducing hypoglycemia3, and keeping patients informed of time spent in range). However, even with increased adoption, there are often misconceptions around how and when rtCGM should be used.
We want to help healthcare providers reassess these assumptions and improve rtCGM education. Here we examine five common misconceptions about the Dexcom G6 rtCGM System.
Misconception #1: Dexcom G6 will only benefit patients with type 1 diabetes.
FACT: The Dexcom G6 rtCGM System is a new standard of care in diabetes management that can benefit patients with type 1 or type 2 diabetes1,4 whether they are using multiple daily injections or an insulin pump. In fact, the updated 2021 Diabetes Canada guidelines recommend that real-time CGM should be used in the treatment of individuals living with type 1 diabetes, and may be also used in the treatment of individuals living with type 2 diabetes on insulin5.
The more recently published MOBILE clinical trial concluded that Dexcom G6 is effective in improving both the A1C and time in range (3.9–10.0 mmol/L) of individuals living with type 2 diabetes on insulin6, and that discontinuing regular rtCGM use has a negative impact on glycemic control7. AACE guidelines further support rtCGM use for persons >65 years old with insulin-requiring diabetes to achieve improved glycemic control, reduce episodes of severe hypoglycemia, and improve quality of life8.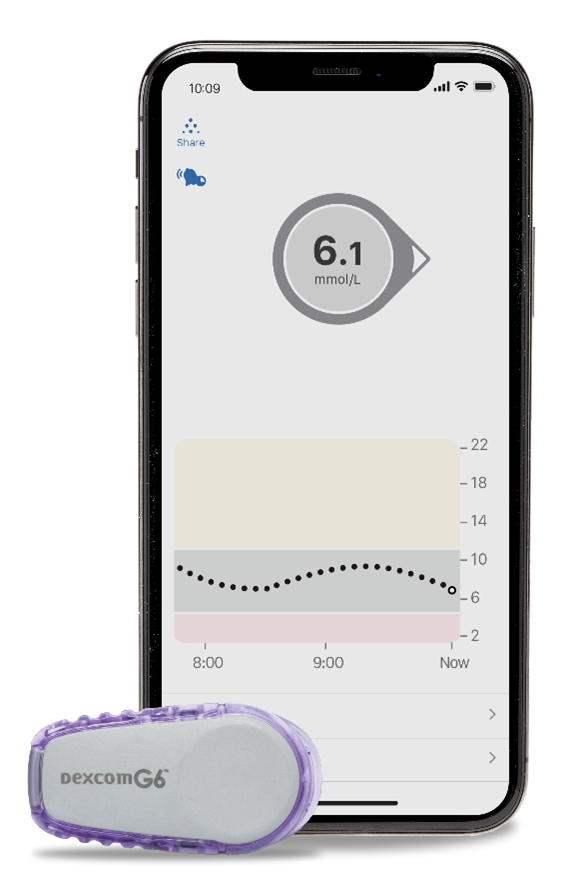 Misconception #2: Dexcom G6 and other competing glucose sensors offer the same features and benefits.
FACT: Unlike competing products which require the user to manually scan their glucose sensor, called Intermittently Scanned CGM (isCGM), the Dexcom G6 real-time CGM System (rtCGM) automatically sends sensor glucose data to a compatible smart device† or receiver up to every 5 minutes without the need for routine fingersticks‡ or scanning. Dexcom G6 also features an Urgent Low Soon alert, which automatically alerts users before their glucose will be at or below 3.1 mmol/L within 20 minutes. The benefits of Dexcom real-time CGM are substantiated by a wide body of evidence, and is clinically proven to reduce A1C1, increase time in range5, and reduce hypoglycemic events3. Other important differentiators can also be viewed on our Why Dexcom page.
Misconception #3: Dexcom G6 readings are less accurate than those from a blood glucose meter.
FACT: Dexcom G6 measures glucose from interstitial fluid, rather than capillary blood glucose from a fingerstick test. While this data may be different from a fingerstick, it is proven to be accurate when compared to a laboratory test (YSI). With an overall mean absolute relative difference (MARD)* of 9.8% compared to YSI, sustained accuracy over time9 and accuracy across all glucose ranges10, Dexcom G6 demonstrates exceptional accuracy and Proven Outcomes for patients.
G6 Accuracy to YSI within CGM Glucose Ranges (Adults; n=159)10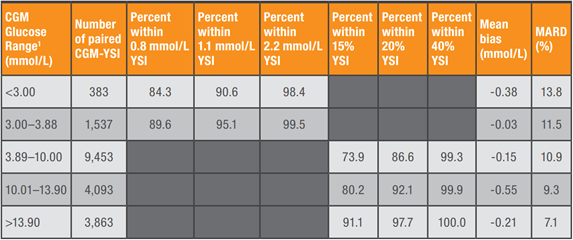 Misconception #4: Dexcom G6 is not available in pharmacy.
FACT: Pharmacies are a growing, important part of our business and we are committed to ensuring that people who need our products have easy access to them. Since 2021, Dexcom G6 has been listed with all major wholesalers that sell products to Pharmacy in Canada. Pharmacists can find a complete list of wholesale order codes on our Pharmacy Resources page or call us toll-free at 1-844-536-1001 for assistance.
Misconception #5: Dexcom G6 is not covered by private or public healthcare plans.
FACT: Most private insurers in Canada cover Dexcom G6, and Dexcom G6 can be billed directly at the pharmacy using a pay-direct card§ and the provided Billing Codes. Dexcom G6 is also covered by provincial healthcare programs in the Yukon, British Columbia, Alberta, Saskatchewan, Manitoba, Ontario, and Quebec (image below). Conditions apply. Full details are available on our Coverage page.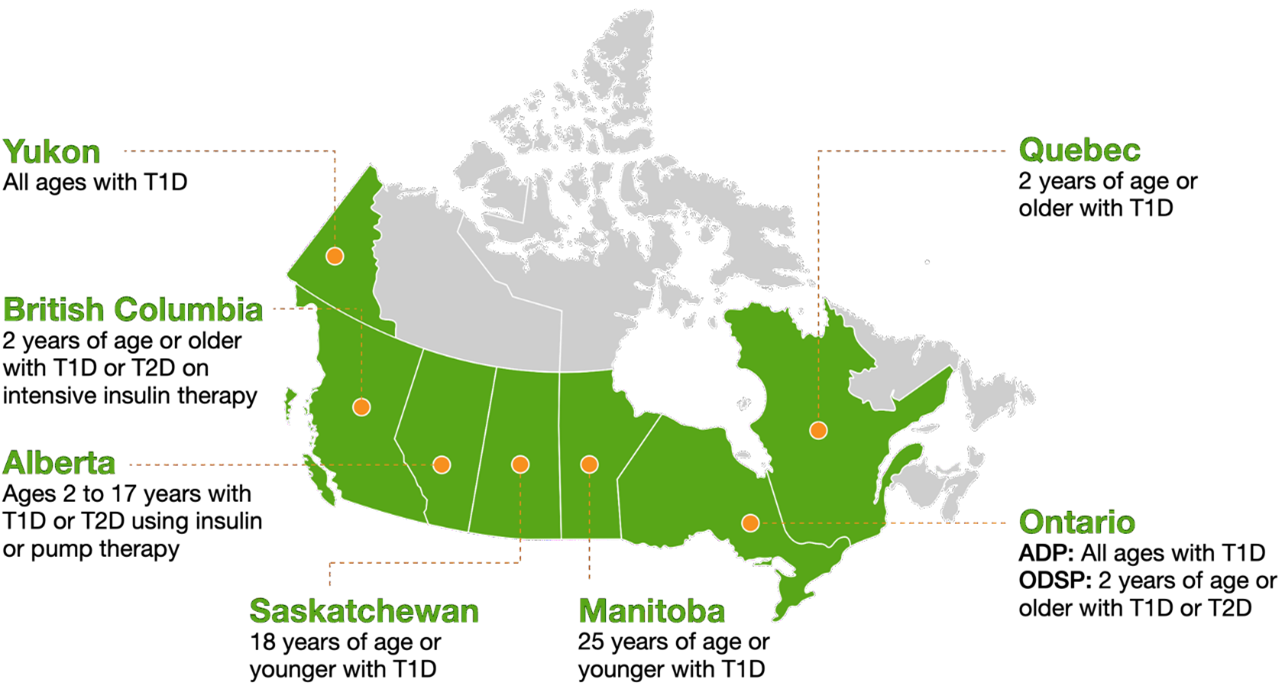 We're Here to Help
We appreciate that knowledge can be an essential part of increasing confidence with prescribing and dispensing rtCGM devices, and we're here to help. Healthcare providers wishing to learn more about Dexcom G6 can contact us by toll-free phone at 1-844-536-1001 or submit a callback request online.
‡If glucose alerts and readings from the G6 do not match symptoms or expectations, use a blood glucose meter to make diabetes treatment decisions.
*MARD is a statistical measure of accuracy.
†For a list of compatible devices, visit: www.dexcom.com/compatibility §If a patient's pharmacy claim is not approved, please have them call a Dexcom insurance specialist at 1-844-832-1810 (Option 2).
1 Beck RW, Riddlesworth T, Ruedy K, et al. Effect of continuous glucose monitoring on glycemic control in adults with type 1 diabetes using insulin injections: The DIAMOND randomized clinical trial. JAMA. 2017;317(4):371-378.
2 Lind M, Polonsky W, Hirsch IB, et al. Continuous glucose monitoring vs conventional therapy for glycemic control in adults with type 1 diabetes treated with multiple daily insulin injections: The GOLD randomized clinical trial. JAMA. 2017;317(4):379-387.
3 Heinemann L, Freckmann G, Ehrmann D, et al. Real-time continuous glucose monitoring in adults with type 1 diabetes and impaired hypoglycaemia awareness or severe hypoglycaemia treated with multiple daily insulin injections (HypoDE): a multicentre, randomised controlled trial. Lancet. 2018;391(10128):1367-1377.
4 Gilbert TR, Noar A, Blalock O, Polonsky WH. Change in Hemoglobin A1c and Quality of Life with Real-Time Continuous Glucose Monitoring Use by People with Insulin-Treated Diabetes in the Landmark Study. Diabetes Technol Ther. 2021 Mar;23(S1):S35-S39. doi: 10.1089/dia.2020.0666. PMID: 33470882; PMCID: PMC7957368.
5 Cheng A, Feig D, Ho J, Siemens R (Diabetes Canada Clinical Practice Guidelines Expert Working Group). Blood glucose monitoring in adults and children with diabetes: Update 2021. Can J Diabetes 2021;45(7):580-87. Accessed November 1, 2021.
6 Martens T, Beck RW, Bailey R, et al; MOBILE Study Group. Effect of continuous glucose monitoring on glycemic control in patients with type 2 diabetes treated with basal insulin: a randomized clinical trial. JAMA. 2021 doi:10.1001/jama.2021.7444.
7 Aleppo G, Beck R, Bailey R, Ruedy K, Calhoun P, Peters A, Pop-Busui R, Philis-Tsimikas A, Bao S, Umpierrez G, Davis G, Kruger D, Bhargava A, Young L, Buse J, McGill J, Martens T, Nguyen Q, Orozco I, Biggs W, Lucas K, Polonsky W, Price D, Bergenstal R, MOBILE Study Group; The Effect of Discontinuing Continuous Glucose Monitoring in Adults With Type 2 Diabetes Treated With Basal Insulin. Diabetes Care 1 December 2021; 44 (12): 2729–2737. https://doi.org/10.2337/dc21-1304.
8 Grunberger G, Sherr J, Allende M, Blevins T, Bode B, Handelsman Y, Hellman R, Lajara R, Roberts VL, Rodbard D, Stec C, Unger J. American Association of Clinical Endocrinology Clinical Practice Guideline: The Use of Advanced Technology in the Management of Persons With Diabetes Mellitus. Endocr Pract. 2021 Jun;27(6):505-537. doi: 10.1016/j.eprac.2021.04.008. PMID: 34116789.
9 Shah V LL, Wadwa P, et al. Performance of a Factory-Calibrated Real-Time Continuous Glucose Monitoring System Utilizing an Automated Sensor Applicator. Diabetes Technology and Therapeutics. 2018;20(6).
10 Dexcom G6 CGM System User Guide, 2021.