Dexcom Canada and RxFood Corp. partner on industry-leading, AI-powered nutrition and glucose monitoring solution
Published on: 7 November 2023
On September 21st, 2023, Dexcom Canada and RxFood Corporation announced a first-of-its-kind partnership in Canada to introduce an improved digital health solution for those living with diabetes.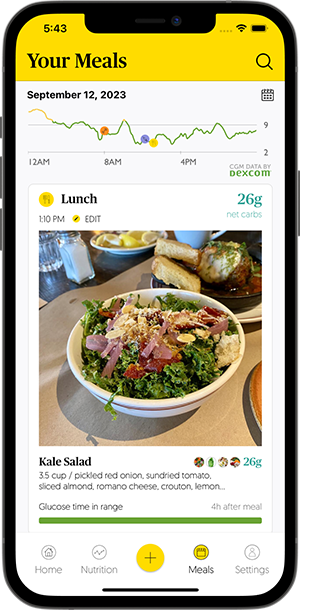 How does it work?
Within the RxFood app, Dexcom CGM users can capture photos of their meals, eliminating the need for manual food and nutrition tracking. As they photo-log their food, RxFood will continuously generate detailed diet quality metrics that are combined with glucose data, making it easily accessible to both patients and their dedicated clinicians. The combination of RxFood with Dexcom CGM addresses the need for unified, time-matched food and glucose data reports to effectively manage diabetes and enable personalized nutritional guidance at scale.
Is it clinically proven?
The efficacy of RxFood was demonstrated through a rigorous clinical trial at The Hospital for Sick Children in Toronto, Ontario. This trial focused on families of children with diabetes and yielded impressive results, including improved accuracy in carbohydrate counting; a notable decrease in counting errors exceeding 10g; and lower A1C levels1. Additionally, as the RxFood technology has been adopted and deployed within clinical settings across Canada, it was found to help reduce the time associated with day-to-day diabetes management for parents, while allowing clinicians to have more complete food records, supporting the development of more personalized care recommendations for families.
Who can access it?
The next generation RxFood app, featuring Dexcom CGM glucose data integration, is now available to health care program stakeholders across Canada including clinics, hospitals, health authorities, pharmacies, insurers, and employers, to incorporate into diabetes and nutrition management programming. Through these programs, Canadians using the Dexcom G6 CGM system or the Dexcom G7 CGM system will have access to the combined power of food data and glucose data, to obtain a more comprehensive personalized understanding of their health and glucose control.
For more information on how RxFood and Dexcom are promoting individual well-being through
improved nutrition and diabetes management, and for updates on program availability, please visit www.rxfood.co/dexcom.
1 Alfonsi JE, et al. Carbohydrate Counting App Using Image Recognition for Youth With Type 1 Diabetes: Pilot Randomized Control Trial. JMIR Mhealth Uhealth. 2020;8(10):e22074.
MAT-0701 V1.0